Popcorn Machine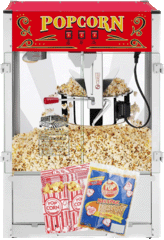 Description
Rental of Popcorn Machine will include 30 servings. Additional servings can be purchased for $10. This will include popcorn bags.
Introducing our state-of-the-art Popcorn Machine, designed to elevate your popcorn experience to a whole new level. Whether you're hosting a movie night, a carnival-themed party, or simply craving a delicious snack, this machine is here to satisfy your popcorn cravings with ease.

Featuring a powerful heating element, this machine pops kernels quickly and efficiently, ensuring you don't have to wait long to enjoy your favorite treat. The built-in stirring mechanism guarantees even heat distribution, preventing any burnt or unpopped kernels.

With its user-friendly operation, our Popcorn Machine is suitable for both beginners and seasoned popcorn enthusiasts. Simply add your preferred popcorn kernels and let the machine do the rest. The transparent cover allows you to watch the magic unfold as the kernels transform into a mouthwatering snack.So why settle for store-bought popcorn when you can have the theater-like experience in the comfort of your own home? Elevate your snacking game with our high-quality Popcorn Machine and indulge in the irresistible taste of freshly popped popcorn. Get ready to savor the perfect blend of crunchiness, flavor, and nostalgia with every bite.
setImmediate$0.8395229068980565$3