Popcorn Kit (30 servings)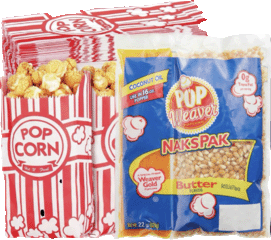 Description
Each kit serves 30 and includes popcorn bags.
We are excited to introduce our popcorn kernel, seasoning, and oil kit - the perfect combination to elevate your popcorn experience. Whether you're hosting a movie night, a party, or simply enjoying a cozy evening at home, our kit will take your popcorn game to the next level.
With our kernels, you'll experience the perfect balance of crunchiness and tenderness, making every bite a delight. Our oil is designed to enhance the taste and texture of your popcorn, creating a mouthwatering experience. It adds a rich and buttery flavor while keeping your popcorn light and airy.
What sets our kit apart is the convenience it offers. With everything you need in one package, you can skip the hassle of searching for individual ingredients. Our kit saves you time and effort, allowing you to focus on enjoying your popcorn.
Whether it's for a birthday, holiday, or special occasion, our kit is sure to impress and delight anyone who receives it.So why settle for ordinary popcorn when you can have an extraordinary experience? Get ready to enjoy the ultimate combination of flavor, crunch, and satisfaction.
setImmediate$0.2821900794727257$3