Paradise Double Lane Dry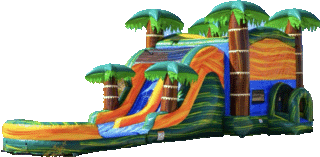 Setup Area: 30 x 22 x 18
Actual Size: 25 x 18 x 17
Outlets: 1
Age Group: 3 years+
Description
Introducing the Paradise Double Lane Dry Combo Bounce House, the ultimate inflatable experience that combines fun, excitement, and adventure! This vibrant and eye-catching inflatable is perfect for any event or party, providing endless entertainment for kids and adults alike.
Featuring not one, but two exhilarating lanes, this bounce house allows for friendly competition and thrilling races. Kids can experience the thrill of racing side by side, bouncing and sliding their way to victory. The spacious design ensures that everyone can join in on the fun, making it perfect for larger gatherings.
But that's not all - this combo bounce house also includes a basketball hoop, adding an extra element of excitement. Kids can test their shooting skills and engage in friendly basketball matches, adding a touch of friendly competition to the mix.
To enhance the adventure, this inflatable also features popups, adding an element of surprise and challenge. Kids can navigate through the inflatable, encountering various obstacles and popups along the way. This interactive feature keeps them engaged and entertained for hours on end.
To complete the tropical paradise theme, this inflatable is adorned with palm trees, creating a visually stunning environment. The vibrant colors transport kids to a tropical oasis, enhancing their imaginative play experience.
Safety is always a top priority, and this bounce house is designed with that in mind. It is constructed with high-quality materials, ensuring durability and stability. The inflatable is also equipped with safety features such as safety netting and secure anchor points, providing peace of mind for parents and event organizers.
Whether you're hosting a birthday party, school event, or community gathering, the Paradise Double Lane Dry Combo Bounce House is sure to be a crowd-pleaser. It combines the thrill of bouncing, sliding, shooting hoops, and navigating obstacles, creating an unforgettable experience for all. Get ready to create lasting memories with this exciting inflatable!